ForwardX successfully kicked off its expansion into Europe with its launch at the LogiMAT tradeshow. The event was held in Stuttgart, Germany from April 25–27 at the Stuttgart Trade Fair Centre. As one of the largest and most influential logistics exhibitions in Europe, this year's LogiMAT attracted more than 1,500 exhibitors from Europe, North America, South America, Asia, and Africa, with a total of over 50,000 attendees.
During the exhibition, ForwardX showcased its person-to-goods flexible picking solutions for the logistics industry and its end-to-end unmanned logistics solutions for the manufacturing industry, demonstrating its top-notch autonomous mobile robot (AMR) capabilities.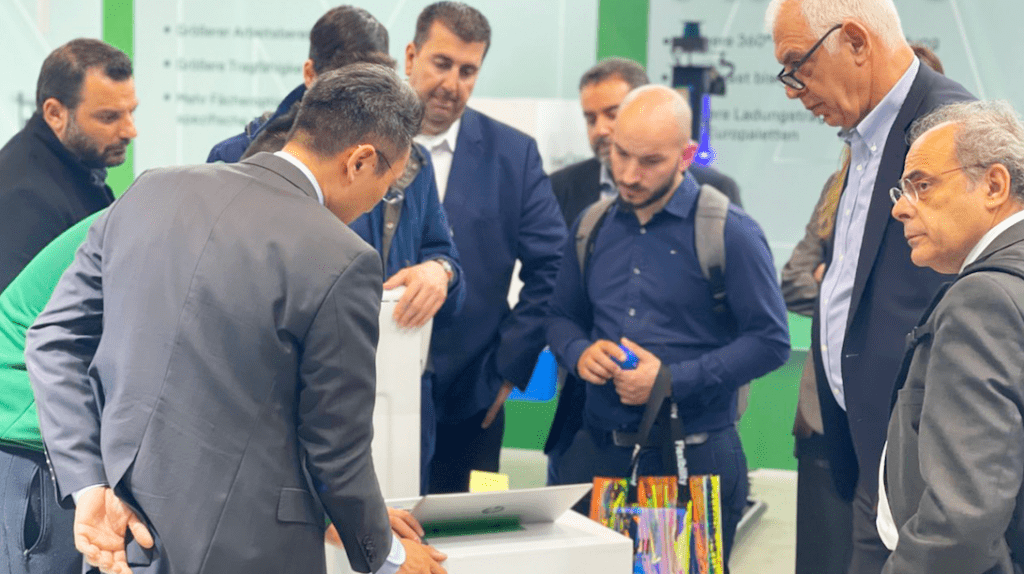 The show was considered a success as ForwardX attracted the attention of automation and logistics partners from multiple countries, including Germany, Italy, the United Kingdom, France, and Poland.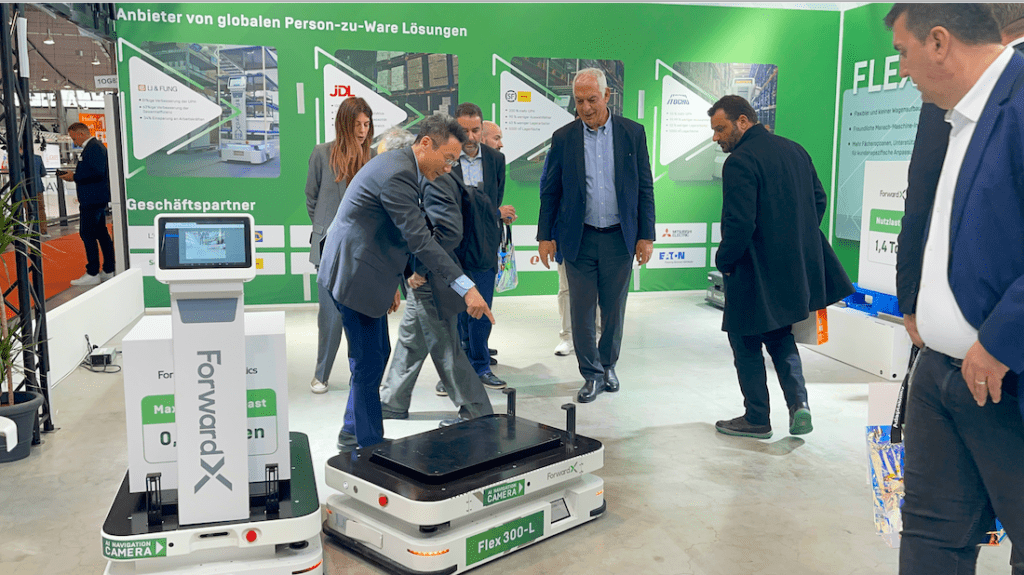 Attendees were able to see and interact with multiple iterations of ForwardX's AMRs including Flex, Max, and Apex.
The Flex series is highly flexible and scalable and can be adapted to a wide range of scenarios due to its many available accessories and modules.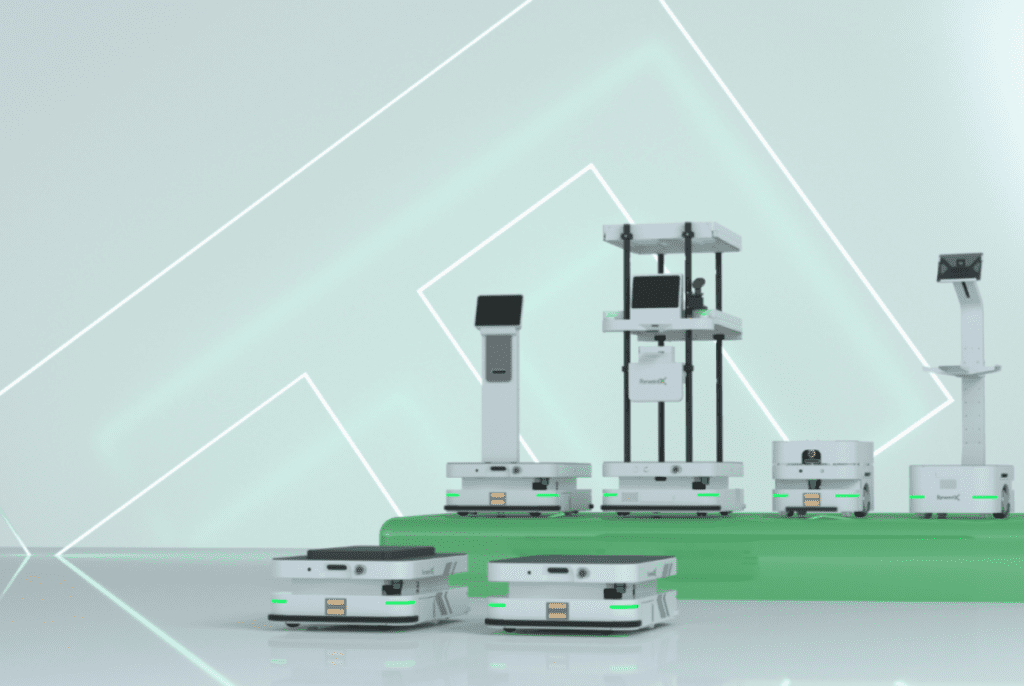 The Flex 300L model is equipped with a lifting function and, when combined with its multiple sensors and cameras, can detect and autonomously dock with material racks, achieving unmanned rack transportation. The results are increased efficiency, accuracy, and productivity and reduced labor intensity, dependency, and costs.
Compared to the Flex series, the Max series has a larger working load area and higher payload capacity, making it suitable for business scenarios such as large or heavy piece and case picking, bulk order picking, and pick-to-pallet workflows.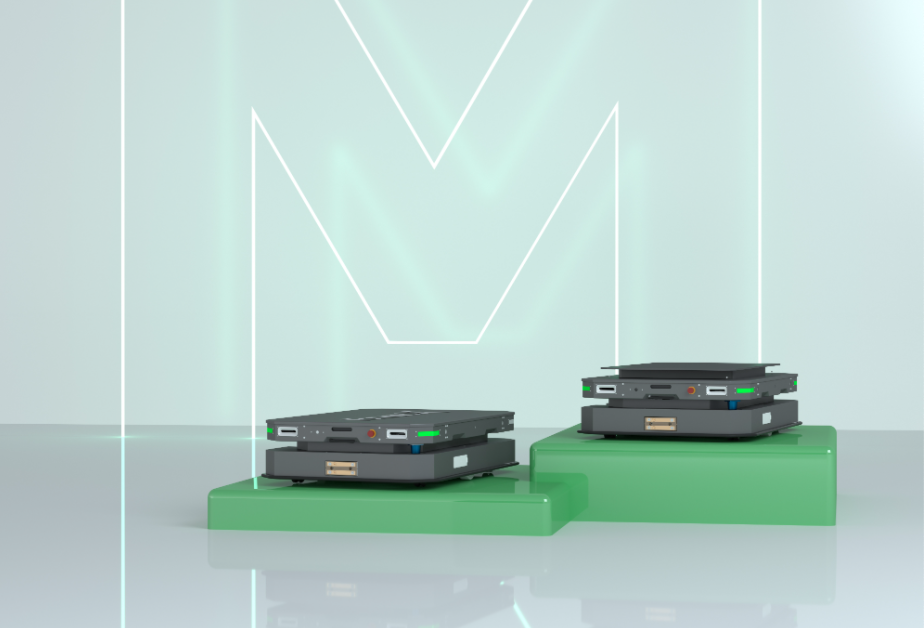 The Max 600L can be adapted to a variety of workstations and other equipment. It can cooperate with forklifts (as seen at ForwardX's booth with Apex 1400L) to achieve autonomous pallet-based storage and shelving, line-side transportation, finished product storage, and more.
Apex Autonomous Forklifts
The Apex series uses multiple LiDAR sensors and other cameras to achieve 360° environmental awareness providing comprehensive obstacle avoidance and safety. A depth camera is installed in the front of the vehicle to detect suspended obstacles, thereby avoiding collisions with high-level forklifts or stackers that are in operation. Apex also uses visual and LiDAR fusion.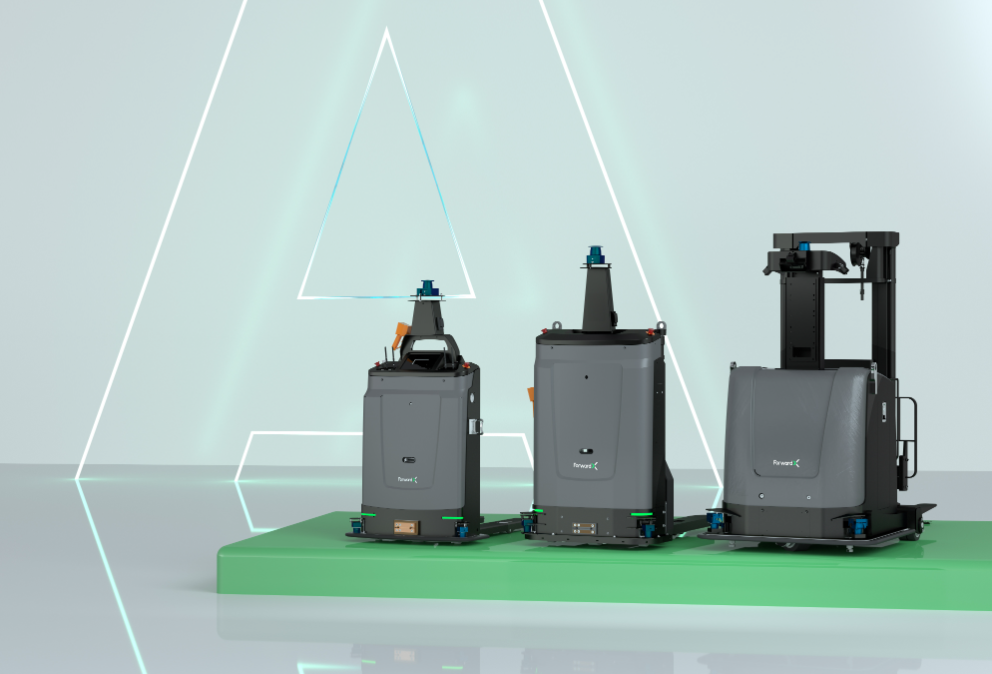 Apex can be used in various scenarios such as point-to-point transportation, raw material storage, and finished product transfers. It also collaborates with AMRs to complete end-to-end pallet picking workflows.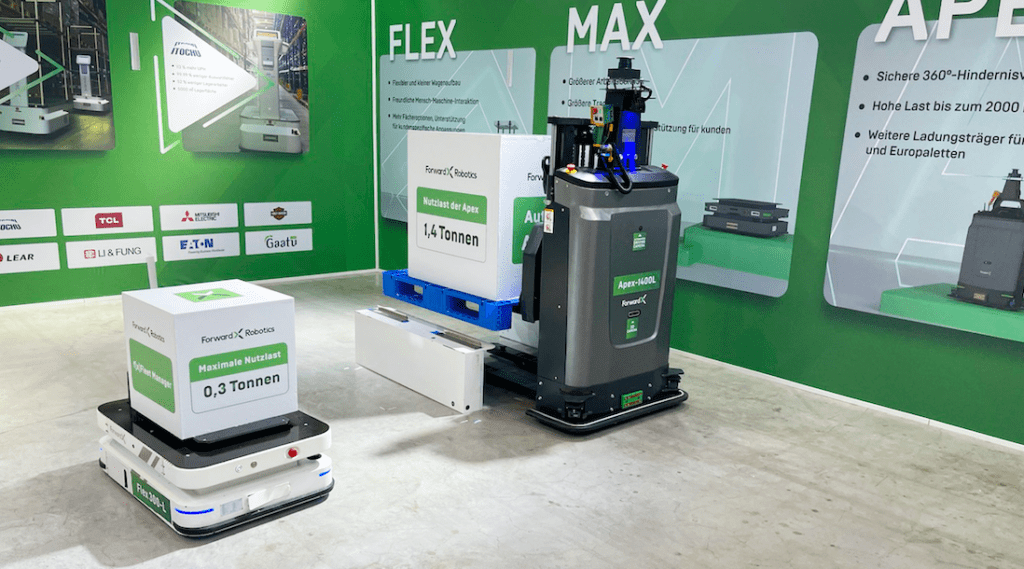 ForwardX Robotics always takes the customers' needs into consideration while developing its products. The company is actively expanding in to markets across the globe with services in over 15 countries and regions, such as the United States, Japan, South Korea, Germany, and Australia. With over 2,000 AMRs deployed in more than 100 warehouses, ForwardX is actively pursuing its mission of adding value to people's lives and businesses' operations by creating a future where a network of intelligent robots enhances human potential.
ForwardX has secured over 100 technical patents across the globe and obtained multiple certifications such as EU CE-MD/CE-EMC/FCC and ISO9001.
Based on the advantages of its deep learning computer vision-based AMR technology and practical experience, ForwardX looks to lead the development of mobile robots through high-quality products and services, create more value for global social intelligence and efficient business scenarios, and help reduce costs and increase efficiency.