What Is It?
ForwardX Flex is a "range" of robots that is really one robot configured in a few different and specific ways to fit the customer's need.
Flex, at its most basic, is a roughly 3'-by-2' robot thoughtfully constructed to increase productivity, throughput capacity, and labor savings. Flex has a 300-kg, or 661-lb, payload making it the perfect solution for piece-picking workflows, case-picking workflows, or a mixture of the two.
For the lighter piece-picking operation, the Flex robots can come equipped with double- or even triple-deck racks, perfect for organizing orders as they're picked. For larger and heavier cases, perhaps the standard robot is the right choice. For workflows that require both, Flex robots can accommodate with heavy items and cases on the bottom and lighter, smaller pieces on the upper deck(s).
No matter which variation of the Flex range is the best fit, they all make things easy to follow. Flex can come outfitted with an intuitive touch-screen interface that guides employees through each pick of the order. They can also be paired with handheld devices such as barcode scanners or PDAs for even smoother picking.
These little helpers can maneuver through tight spaces and narrow aisles safely with 360° obstacle avoidance and the ability to turn in place. The whole fleet is constantly communicating changes in the warehouse and mapping out the environment, so every robot knows the fastest route to the next location. If something gets in a robot's way, the robot can identify the obstacle and reroute instantaneously, so everything shows up where needed in a timely manner.
The Flex robots can run about eight hours non-stop. When a Flex robot is running low on battery, it autonomously heads to its charging station where it only needs about two and a half hours to get to 95% battery life. To ensure the fleet doesn't all take a break at once leaving its human counterparts to fend for themselves, the f(x) Fleet Manager automates opportunistic charging. The Fleet Manager makes sure enough robots are in rotation at any given time.
ForwardX Flex top specs:
661-lb payload
4.5-mph movement speed
Turn-in-place ability for maximum mobility
8-hour non-stop run time
Opportunistic charging for 24/7 utilization
360° obstacle avoidance
2 emergency stop buttons for increased safety
Who Stands to Benefit?
An argument could, and perhaps should, be made that the industry applications for AMRs in general have yet to be realized. That said, there are many areas that we have already seen AMRs make a huge impact.
The ForwardX Flex range of robots have set out to bring benefits to any operation where the movement of small to medium sized materials make up a large part of a business's workflows. From distribution to fulfillment warehouses and eCommerce to 3PL companies, the Flex range has already had lasting impacts for many.
Industries Flex robots are already being put to use:
Fashion & apparel
Food & beverage
Grocery
General merchandise
Home furnishing
Industrial
Consumer electronics
…
When Should Businesses Start Thinking About It?
If businesses want to maximize the benefits, the time to start thinking about it is now. In fact, the time to start implementing AMRs is today.
It's getting harder each passing year to hire more people. It's getting more expensive every year to recruit, train, and retain employees. The strain of the labor shortage isn't just affecting the employers, but also the employees that must work harder in an attempt to make up for being understaffed. Overworking employees leads to lower job satisfaction and higher turnover, creating a brutal cycle for a business.
A business that supplements its staff with ForwardX Flex robots today stands to save a few million dollars over the course of just five to six years when compared to a manual warehouse over the same period. The longer a business waits to make a change, the more savings it misses out on. Check out our whitepaper, The Optimal Time for Investing in AMRs, to learn more and see a clear breakdown of the numbers.
Why ForwardX Flex?
ForwardX Flex robots make operations faster, stronger, and smarter. A person picking 100 pieces per hour in a manual operation can pick 200–300 per hour when working alongside a Flex fleet. The person doesn't have to start working harder to make this happen. The operations become faster because the Flex robot allows employees to work smarter.
Along with the rapid increase in units picked per hour (UPH), the error rates will be significantly reduced through the robot's on screen guidance and the employee's new ability to focus on a specific zone instead of the whole warehouse. Check out our post, How AMRs Increase Productivity, for a more in depth look at how they make it all possible.
In 5 Ways AMRs Are Transforming the Material Handling Industry you can find out more about how ForwardX Flex AMRs:
Increase productivity
Reduce labor costs
Increase flexibility
Increase accuracy & inventory visibility
Increase safety
ForwardX Flex in Action
Case Study 1: ITOCHU Logistics China
ITOCHU Logistics China, a 3PL provider, used a ForwardX Flex solution to address the wasted time spent on transporting goods. The AMR and picker move to the pick location where the picker follows on-screen instructions and stows the goods on the AMR. After the last pick of an order is complete, the AMR moves the goods to a sorting area, while the picker moves to a nearby robot ready to start the next order.
Prior to adding AMRs, ITOCHU had an average of 150 units picked per hour (UPH) and saw its employees needing to spend almost half of their time walking long distances and checking orders. After deploying AMRs, ITOCHU reached an average UPH of 320 and virtually cut out all long walks from its operations.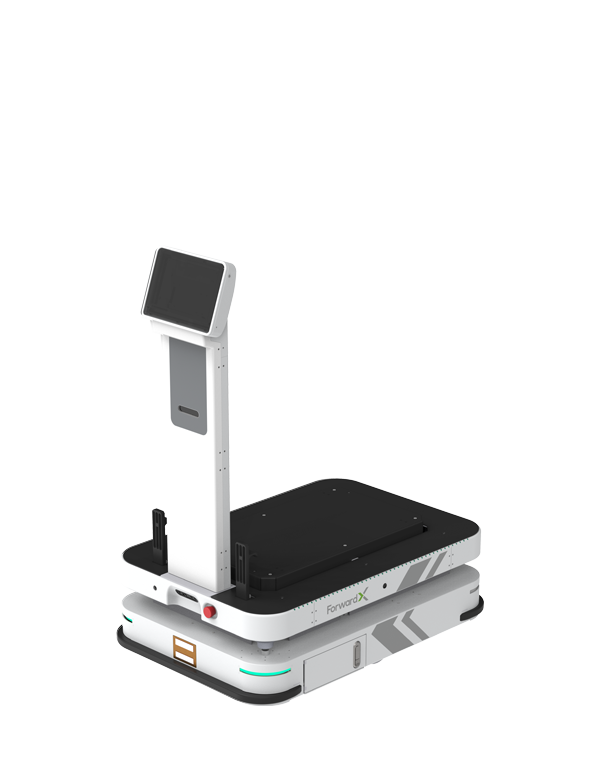 Case Study 2: SF DHL
SF DHL chose a Flex solution for a distribution warehouse that handles about 1,000 SKUs and serves over 400 stores. Prior to implementing AMRs, the warehouse used traditional manual picking methods with paper pick lists and manual carts. Employees covered large distances every day, and the error rate led to significant financial loss. In late 2019, the warehouse decided it was time to make a change.
It chose a ForwardX Flex solution consisting of 5 Flex-300 S AMRs with custom built racking and f(x) Fleet Manager to serve about 100 stores to start. After only 2 months, the results were obvious. The warehouse introduced 15 more AMRs to bring the total to 20 serving over 400 stores. SF Supply Chain China reduced its error rate by a whopping 90%.
ForwardX Flex AMRs are designed to give you better performance at a better value. Start the conversation with our team to learn more by emailing us at oversea@forwardx.com, and find a plan that fits with your business.